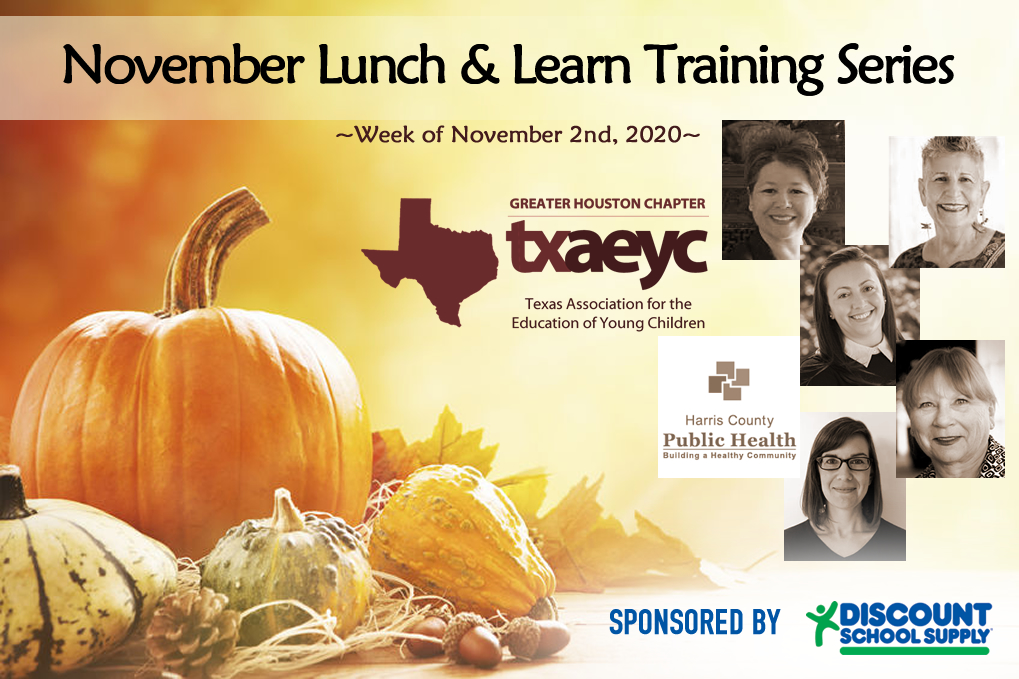 The Greater Houston Chapter is pleased to offer our November Lunch & Learn Training Series "COVID, Leadership and Self-Care" which will take place virtually from November 2-6, 2020.
We are offering one training during each weekday (excluding Election Day) on topics that we know will benefit early childhood programs. Please see the list of sessions with descriptions below.
FORMAT: Virtual, Moderated, Interactive Trainings via ZOOM

*Trainers will present for 30-45 minutes and the remainder of the session time will allow participants to ask questions.
*Questions can be submitted to the Moderator who will then share with the presenter.
COST: $8 per training or all four trainings for $30
CLOCK HOURS:
One Hour for each Session (Maximum of 4 possible)

LIMITED REGISTRATION! Ensure your spot by REGISTERING TODAY!
*A certificate for one clock hour will be provided at the end of each training session.
*Sessions will take place via Zoom (Zoom information will be emailed several days prior to training session taking place).
*Please note Monday's (11/2) training is scheduled for Noon-1:00 PM. All other trainings are scheduled for 1:00-2:00 PM.
Questions? Contact Aaron Carrara at Aaron.Carrara@GreaterHoustonChapter.org or text to 832-643-7304
TRAININGS
Monday, November 2nd, 2020


Training Title: Health Considerations for Navigating COVID-19 in Child Care
Trainer: Katie Chennisi, MPH & Elya Franciscus, MPH/Epidemiologist
Time: 12:00 Noon – 1:00 PM
Session Description
This is a virtual training for early care and education professionals presented by Harris County Public Health, to help child care centers who are open continue to stay safe and prepare others for a safe reopening. The training will cover 4 areas of safe operations including Personal Protective Equipment, Isolation Protocols, Cleaning & Disinfection, and Public Communication. The facilitators will also provide real-world scenarios for hands-on learning. Presenters will also provide a high-level overview of other health-related services and resources specific to the early care and education sector. The session will conclude with a question and answer portion open to all.
---

---
Wednesday, November 4th, 2020


Training Title: What's Right with You?
Trainer: Holly Elissa Bruno, MA, JD
Time: 1:00 PM – 2:00 PM
Session Description
Children are often asked, overtly or covertly: "What's wrong with you?" Adults too focus on our faults, rather than our talents/strengths. Imagine changing the conversation to: "What's right with you?" as we seek the unique giftedness of each child, in our peers and ourselves?
A child is more than her diagnosis. An adult is more than her shortcomings. Join us in discovering how this simple change of perspective changes every interaction for the better. Rilke encourages us to "Learn to love the questions". "What's right with you?" is a question to love.
---
Thursday, November 5th, 2020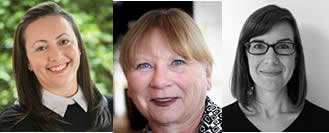 Training Title: Designing COVID-19 Environments for Preschoolers: The Butterfly Approach
Trainers: Sandra Ducan, EdD, Zlata Stankovic-Ramirez, M.S. Lauren Magee, Architect
Time: 1:00 PM – 2:00 PM
Session Description
This presentation will examine how COVID-19 has impacted classroom design keeping the children's safety and learning in mind. A strategy will be offered for design that can help address creating more space and reimagining the space in the classroom through an innovative idea that meets today's needs. Metamorphic design will be introduced and discussed to aid preschool teachers in redesigning their spaces to meet the children's needs during the COVID-19 pandemic.
---
Friday, November 6th, 2020


Training Title: Leading Through Crisis
Trainer: Melissa Williamson, EdD, CTP
Time: 1:00 PM – 2:00 PM
Session Description
As we continue to face challenges, leadership is what matters most. Join this session to reflect on what you need to know as you lead through a crisis.